'Pinterest-ing' Pop Up Event Proves 'anything is possible' For Smaller Brands Too
Pinterest, the visual discovery, and bookmarking platform that has long been a hub for inspiration, took its visual mood boards one step higher by opening its pop-up at the 'Possibility Place'.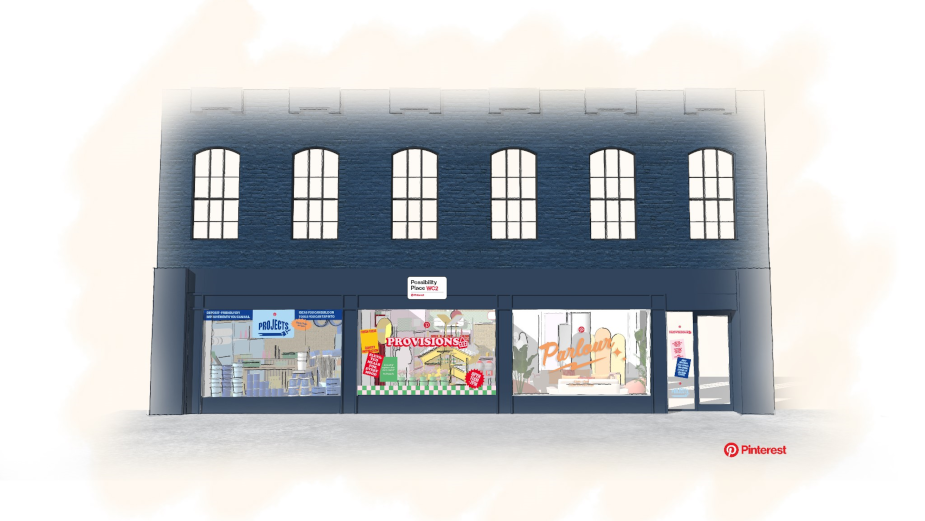 Centering around the ethos, 'anything is possible,' Pinterest brought their brand to life with an exciting new pop-up, in London's Covent Garden, 'Possibility Place'.
Pinterest, the visual discovery, and bookmarking platform has long been a hub for inspiration, whether you're 'mood boarding' your dream wedding, re-imagining your home with interior design ideas, searching for the perfect cocktails to create at a party, or looking to stay up to date on trends and DIY ideas. Tapping into that insight behind how the platform is used and loved, Pinterest took its visual mood boards one step higher by opening its doors to 'Possibility Place'.
With plans to curate similar events in several major cities, 'Possibility Place' was dubbed 'your standard London high street, but a lot more Pinterest-y' and was designed to show fans that Pinterest can help turn your ideas into reality.
Fans could register for free to attend the immersive event. 'Possibility Place' had three main component – a corner shop (Provisions), a beauty bar (Parlour), and a DIY store (Projects).
- Provisions was created to help attendees inject 'a bit of Pinterest' into their life by hosting mocktail classes and serving exciting recipes on the events menu.
- The Parlour gave visitors the chance to win either a nail transformation, hair styling or a mini tattoo session.
- And Projects offered inspiring ways to decorate your home, ensuring that the decorating desires were possible when renting and didn't break the bank.
Seamlessly blending online and offline worlds, 'Possibility Place' was a whimsical amalgamation of imagination and reality, whist remaining an authentic brand experience, which allowed visitors to step into a Pinterest board come to life.
Naturally, the event was an Instagrammer's dream, filled with photogenic backdrops and props. This experience-centric approach encouraged visitors to document and share their time at the pop-up, resulting in viral marketing success, converting visitors into brand advocates, creating social media engagement, and leaving visitors not just with memories, but a newfound or reinforced connection to Pinterest.
'Possibility Place' encapsulated and brought to life Pinterest's mission and values and succeeded in showcasing a platform that goes beyond inspiration, but one that empowers its users to explore the boundless possibilities of creativity and self-expression.
A collaboration between Pinterest's in-house team and creative agency Amplify, despite its big budget, 'Possibility Place's' success can largely be attributed to the way the activity resonated with Pinterest's core values – and this is what we love most about it, because the campaign also proves that anything is possible, for smaller businesses wanting to recreate some of these ideas themselves.
Seven ways Smaller Businesses can run a 'Pinterest-ing' event of their own:
While smaller businesses might not have Pinterest's budget, there are valuable lessons to glean from the success of 'Possibility Place' without breaking the bank:
1. Host a Pop-Up Event: One of the standout features of 'Possibility Place' was the immersive pop-up experience. Smaller businesses can also create pop-up events, even on a smaller scale. Consider setting up a temporary physical presence in a high-traffic area, like a local market or a shared workspace. Use this space to showcase your products or services and engage directly with potential customers. The novelty and personal touch of a pop-up can leave a lasting impression.
2. Bridge Offline to Online: Pinterest seamlessly bridged the gap between their online platform and the real world. Smaller businesses can adopt a similar approach by organising events that encourage customers to engage both offline and online. For instance, host an in-store event where attendees can participate in online contests, share social media posts, or use a specific hashtag. By linking the offline and online worlds, you create a buzz around your brand and generate user-generated content.
3. Collaborate with Like-Minded Partners: Pinterest's collaboration with DIY interior design workshops was a masterstroke. Smaller businesses can leverage collaborations with complementary brands or influencers in their niche. Consider organising joint events, workshops, or promotions that benefit both parties. This not only expands your reach but also taps into your collaborators' existing audience, boosting your brand's credibility.
4. Create an Immersive Experience: Immersive experiences are not exclusive to big-budget campaigns. Smaller businesses can create immersive moments by carefully curating their brand environment. This could involve setting up a themed booth at a local event or using creative signage and displays at your physical store. Make your brand memorable by providing an experience that customers will want to share with others.
5. Leverage User-Generated Content: Pinterest's 'Possibility Place' campaign thrived on user-generated content. Encourage your customers to become your brand advocates by running contests, challenges, or giveaways. Ask them to share their experiences, reviews, or creative uses of your product on social media. Rewarding user-generated content with prizes or recognition can spark a viral effect and expand your brand's visibility.
6. Keep It Cost-Effective: Pinterest's campaign was undoubtedly impressive, but it doesn't mean you need a lavish budget to succeed. Focus on what makes your brand unique and create a marketing event that aligns with your core values. Look for affordable venues, collaborate with local artisans or creators, and use cost-effective promotional strategies like email marketing and social media to get the word out.
7. Measure Your Results: Lastly, just like Pinterest measured the success of 'Possibility Place,' smaller businesses should track their marketing event's impact. Use analytics tools to measure online engagement, foot traffic, sales, and customer feedback. This data will help you refine your strategies for future events and marketing campaigns.
Pinterest's 'Possibility Place' campaign provides valuable insights into creating successful marketing events, even for smaller businesses with limited resources. By adopting some of these cost-effective tactics, your startup can craft engaging experiences that resonate with your audience, build brand loyalty, and drive business growth. Remember, it's not about the size of your budget; it's about the creativity and authenticity of your approach.

Trademark Disclaimer
All trademarks and brand names are the property of their respective owners. All company, product and service names used in this post are for identification purposes only. Use of these names, trademarks and brands does not imply endorsement.